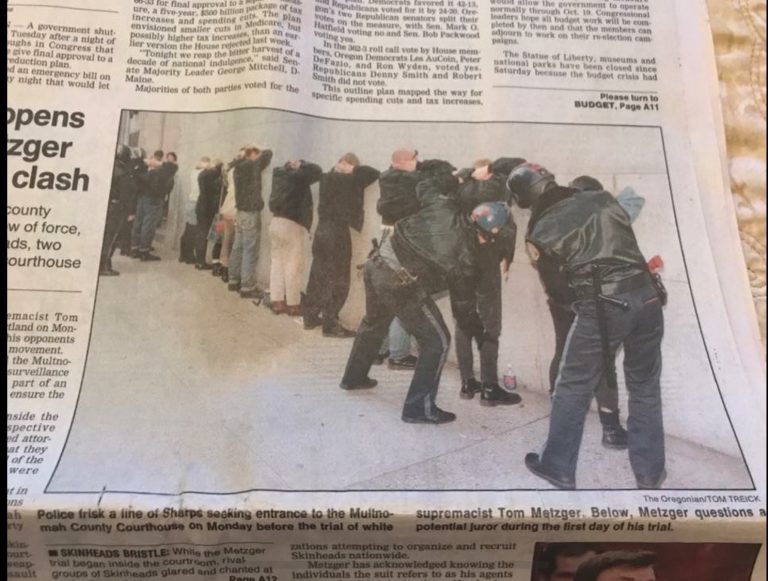 In partnership with the "It Did Happen Here" podcast, we are pleased to announce our second installment in zines about anti-racist skinhead organizing in Portland during the 1990s. The "It Did Happen Here" podcast is an independently produced podcast that documents the fight against racist white boneheads in the 1980's and 90's in Portland, Oregon. The 11 episodes feature interviews with many people who worked together in those days and reveal the unlikely collaboration between groups of immigrants, civil rights activists, militant youth and queer organizers who came together to successfully confront neo-nazi violence and right wing organizing in the Rose City.
The podcast talks to three core groups: the Portland chapter of Anti Racist Action; SHARP- Skinheads Against Racial Prejudice; and the Coalition for Human Dignity. In out-and-out brawls on the streets and at punk shows, and in behind the scenes intelligence gathering to expose right wing and white nationalist organizing, the three groups united on their home ground over and over to attack fascists—and they won it back.
This zine is a collection of three episodes from the It Did Happen Here podcast. The intention behind this zine is to extend the lessons learned from the front lines of a militant and sometimes deadly anti-fascist struggle. Our hope is that inspiration can be found in these pages for the coming cultural and sub-cultural organizing that has and will eventually unfold as our communities emerge from the social isolation of a global health pandemic.
download zine here – SHARPer Times
Listen to and read the transcript for Episode 5 – "They Thought We Were Everywhere: Portland ARA"
Listen to and read the transcript for Episode 8 – "SHARPer Times"
Listen to and read the transcript for Episode 9 – "The Story of Jon Bair"